Contribution Income of Women's Coastal Business Group In Processing of Fishery Products in Manokwari
selvi tebaiy

Dosen UNIPA

Juliana Leiwakabessy

Jurusan Perikanan, FPIK UNIPA, Manokwari, 98314, Indonesia

Eddy T Wambrauw

Jurusan Ilmu Kelautan, FPIK, UNIPA, Manokwari, 98314, Indonesia
DOI:
https://doi.org/10.30862/jsai-fpik-unipa.2017.Vol.1.No.2.29

This Work is licensed under: Creative Commons Attribution-NonCommercial-ShareAlike 4.0 International License.
Abstract
Indigenous women who lives in Manokwari coastal area have five field of economic livelihoods activities such as fish ball and fish crackers, salted dry fish, smoked fish, spicy shredded fish and local culinary tourism. A field research was done in several sites of coastal area of Manokwari during August to December 2015. The objective of this research is to explore and define types of economic livelihood activities by Indigenous women and its contribution on household income. Involving 38th respondents with using questionnaire method did interviews. Analyzed data using statistic descriptive. Based on this research is found that fish ball and fish crackers were higher per month than others, i.e. IDR 10.460.000,00 per month/group. The lowest income was salted dried fish, i.e. IDR 4.895.000 per month/group. About 80% the main contribution of the fisheries sector is from fish product. In Addition, based on this research also show that it needs an effort to empower small-scale unit business and market availability for sustainability business in Manokwari.
Downloads
Download data is not yet available.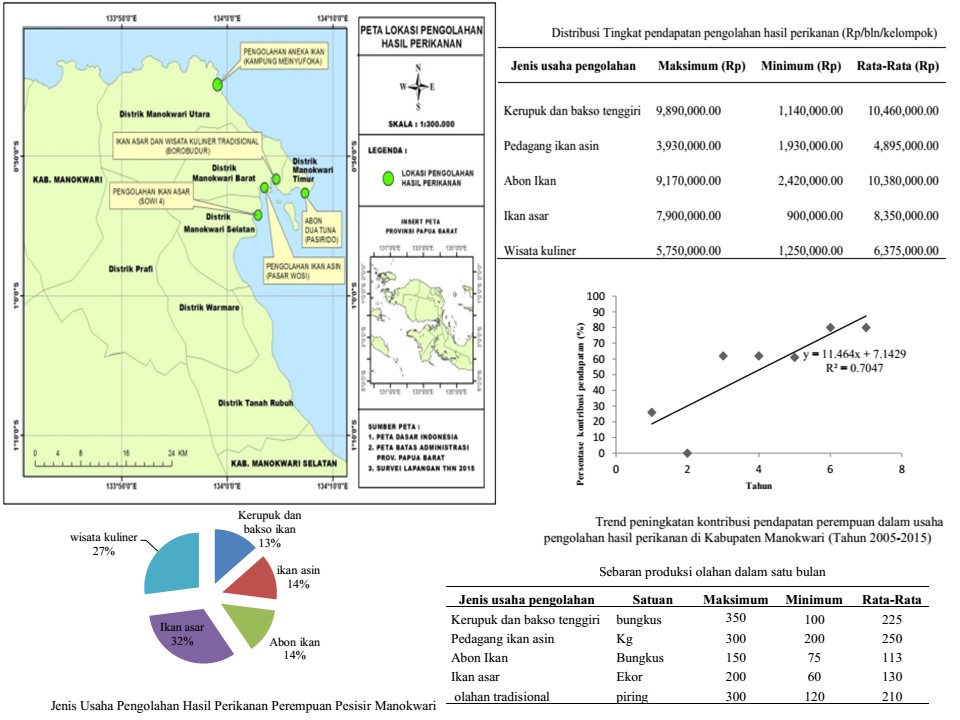 Abstract view : 331 times

PDF Views : 640 times
Keywords:
coastal woman, manokwari, income, fish product
Section
Research Articles