Application of Morphological Analysis and DNA Barcode in Determination of The Porcelain Crab Species (Pisidia sp.) from The Tunda Island, Banten
Teddy Triandiza

LIPI

Hawis Maddupa

Departemen ilmu dan Teknologi Kelautan, FPIK IPB, Bogor, 16680, Indonesia
DOI:
https://doi.org/10.30862/jsai-fpik-unipa.2018.Vol.2.No.2.51

This Work is licensed under: Creative Commons Attribution-NonCommercial-ShareAlike 4.0 International License.
Abstract
The phenomenon of marine cryptic species is frequently found in altered ecosystem such as dead corals habitat. Dead corals as habitat can be used by marine fauna like crustacean from family of porcellanidae. This study was aimed to identify and clarify the species of porcelain crab from Tundai sland, Banten province by applying the morphological analysis and DNA barcoding technique. The result of morphological analysis showed that decapod samples were crabs of the genus Pisidia, family of Porcellanidae with specific morphological characteristics were the ratio of carapace size is longer than tbroad, have long antennae which can be moved, serrated anterior rostrum, chelae rather flattish and unequal size of arms. While based on molecular barcode analysis by using COI, samples were identified as Anomura sp. with 94% of similarities. The difference of the result was suspected due to the lack of suitable genetic data on genbank.
Downloads
Download data is not yet available.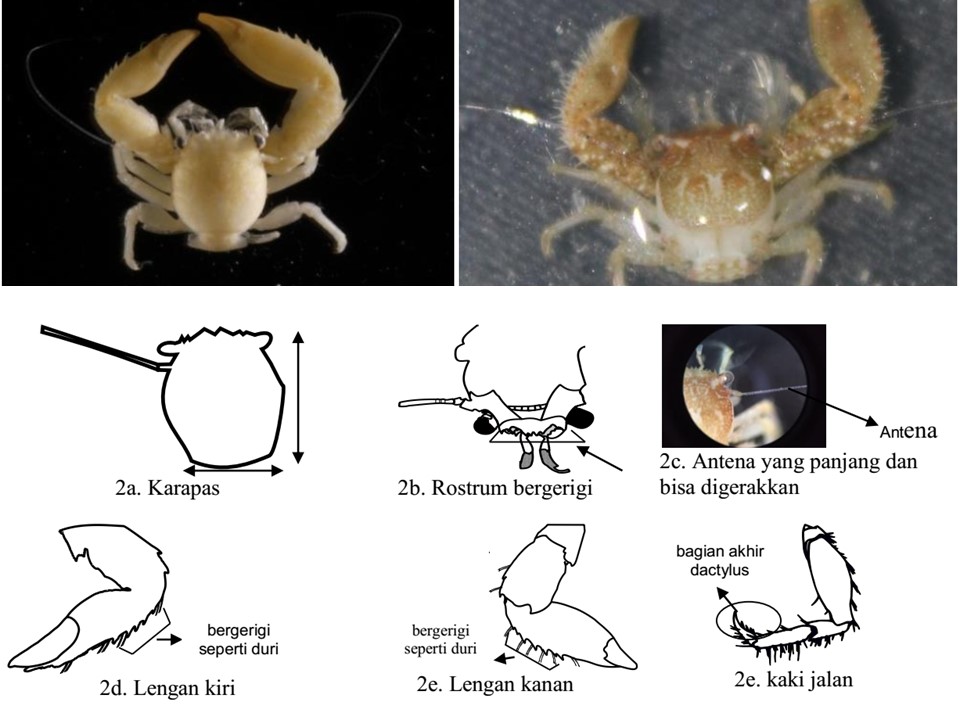 Abstract view : 244 times

PDF Views : 300 times
Keywords:
Cryptik spesies; morphological analysis; DNA barcoding; Pisidia, Anomura
Section
Research Articles