The Diversity of The Kinds Caught and The Synchronization of Surface Gill Net Catching Time in The Waters of Ohoi Tuburngil Southeast Maluku Regency
Keywords:
Gill net, comparison of catches, diversity index, Tuburngil Waters
Abstract
Fishing using gill net has been done widely by fishermen in Southeast Maluku Regency, including in Ohoi Tuburngil waters north east Kei Besar District. Fishing activities using this type of fishing gear are still ongoing as a source of income for local community. The objective of this research were to (1) analyze the composition of the catch with a surface gill net based on the catching time and (2) compare yields and determine the best fishing time in the fishing process with surface gill net. The research methods were experimental fishing, observation and interview. The results showed that the total number of fish species caught with surface gill net during the research was 128 fish consisting of 7 fish species. The value of the diversity index (H') obtained for fishing in the morning was 1,60, at daytime was 1,15, afternoon was 1,30, and at evening was 0,92. According to the criteria for the diversity index, the value of H' less than 1 is categorized as low diversity. The results of the analysis of variance showed that te fishing time has a very significant effect on the catch number at the level of ά = 0.05. Based on the results obtained, it showed that the evening catch was significantly different from that in the morning, the daytime and the afternoon, while catch in the afternoon was significantly different from the day time and different from the morning time.
Downloads
Download data is not yet available.
References
Ayodhyoa, A. U. (2012). Metode Penangkapan Ikan. Bogor: Yayasan Dewi Sri. 2012.
Brower, J. E., & Zar J. H. (1990). Fields and Laboratory For General Ecology. 3nd ed. Dubuque, lowa: Wm. C. Brown Publisher.
Buhdy, R. S., Mote, N., & Melmambessy, E. H. P. (2018). Keanekaragaman Jenis Ikan di Sungai Digoel Distrik Edera Kabupaten Mappi. Musamus Fisheries and Marine Journal, 1(1), 1-14.
Efendi, W.W., Fitroh N.P.H., Zulaikah N. (2013). Studi Inventarisasi Keanekaragaman Tumbuhan Paku di Kawasan Wisata Coban Rondo Kabupaten Malang. Cogito Ergo Sum, 2(3), 173-188.
Efkipano, T. D. (2012). Analisis ikan hasil tangkapan jaring insang milenium dan strategi pengelolaannya di perairan kabupaten Cirebon. (Tesis) FMIPA Universitas Indonesia Program Magister Ilmu Kelautan. Depok.
Matrutty, D. D. P., Matakupan H., Waileruny, W., Tamaela, L. (2019). Produktivitas Jaring Insang Hanyut Berdasarkan Waktu Tangkap Pagi dan Sore di Teluk Ambon Dalam. Prosiding Seminar Nasional Kelautan dan Perikanan, Fakultas Perikanan dan Ilmu Kelautan Unpatti Ambon.
Gaspersz, V. (1994). Metode Perancangan Percobaan (Untuk Ilmu-Ilmu Pertanian, Ilmu-Ilmu Teknik dan Biologi), CV Armico Bandung.
Katarina, H. N., Kartika, W. D., & Wulandari, T. (2019). Keanekaragaman Jenis Ikan Hasil Tangkapan Nelayan di Kelurahan Tanjung Solok Tanjung Jabung Timur. Biospecies, 12(2), 28-34.
Krebs, J. L. (1989). Ekologi Metodologi, Harper and Row Publiser. New York.
Martasuganda, S. (2004). Jaring Insang (Gill Net). Departemen Pemanfaatan Sumberdaya Perikanan dan Pusat Kajian Sumberdaya Pesisir dan Lautan. Bogor.
Matakupan, Hansje. (2002). Kajian Perbedaan Tipe Daerah Penangkapan dan Waktu Penangkapan Jaring Insang Dasar di Perairan Lateri Teluk Ambon Bagian Dalam. ICHTHYOS, Jurnal Penelitian Ilmu-Ilmu Perikanan dan Kelautan, 1(1).
Nababan, B., Sari Y. D., & Hermawan, M. (2008). Tinjauan Aspek Ekonomi Keberlanjutan Perikanan Tangkap Skala Kecil di Kabupaten Tegal Jawa Tengah," Buletin Ekonomi Perikanan, 8(2), 50–68.
Nanlohy, A. CH. (2013). Evaluasi ALat Tangkap Ikan Pelagis yang Ramah Lingkungan di Perairan Maluku dengan menggunakan Prinsip CCRF (Code of Conduct for Responsible Fisheries). Jurnal Ilmu Hewan Tropika, 2(1).
Nurudin, F. A., Kariada, N., Irsadi, A. (2013). Keanekaragaman Jenis Ikan di Sungai Sekonyer Taman Nasional Tanjung Puting Kalimantan Tengah. Unnes Journal of Life Science, 2(2), 118-125.
Odum. E. P. (1993). Dasar-Dasar Ekologi. Penerjemah: Samingan, T & B. Srigando. PT. Gramedia. Jakarta.
Ridho, M. R., & Patriono, E. (2017). Keanekaragaman Jenis Ikan di Estuaria Sungai Musi, Pesisir Kabupaten Banyuasin, Provinsi Sumatera Selatan. Jurnal Penelitian Sains, 19(1), 32-37.
Ruslan, M. H, Aqla M. H, Bakri S & Karim, A. A. (2010). Rancangan Percobaan. E-Book, hal. 60-1-60-5. Banjarbaru.
Samitra, D., & Rozi, Z. F. (2018). Keanekaragaman Ikan di Sungai Kelingi Kota Lubuklinggau. Jurnal Biota, 4(1), 1-6.
Simpson, E. H. (1949). Measurement of Diversity. Nature, 168, 688. https://doi:10.1038/163688a0.
Sriwidodo, D. W. E., & Sugiyarto, A. B. (2013). Keanekaragaman jenis ikan di kawasan inlet dan outlet Waduk Gajah Mungkur Wonogiri. Bioteknologi, 10(2), 53-50.
Tadjuddah, M. (2009). Kajian Keramahan Lingkungan Alat Tangkap Menurut Klasifikasi Statistik Internasional Standar FAO. http://muslimtadjuddah.blogspot.com/ (diakses : 14 Februari 2022)
Ulukyanan, K. V., Melmambessy, E. H. P., & Lantang, B. (2019). Perbandingan Hasil Tangkapan Ikan dengan jaring Insang Tetap (Set Gill Net) pada Siang dan malam Hari di Sungai Kumbe Distrik Malind Kabupaten Merauke. Musamus Fisheries and Marine Journal, 1(2), 89-100.
Wiyono, E., Yamada, S., Tanaka, T., Arimoto, T., & Kitakido. (2006). Dinamika Alokasi Alat Tangkap oleh Nelayan pada Perikanan Skala Kecil Pesisir Teluk Pelabuhanratu Indonesia. Fisheries Management and Ecology, 13(3), 185-195.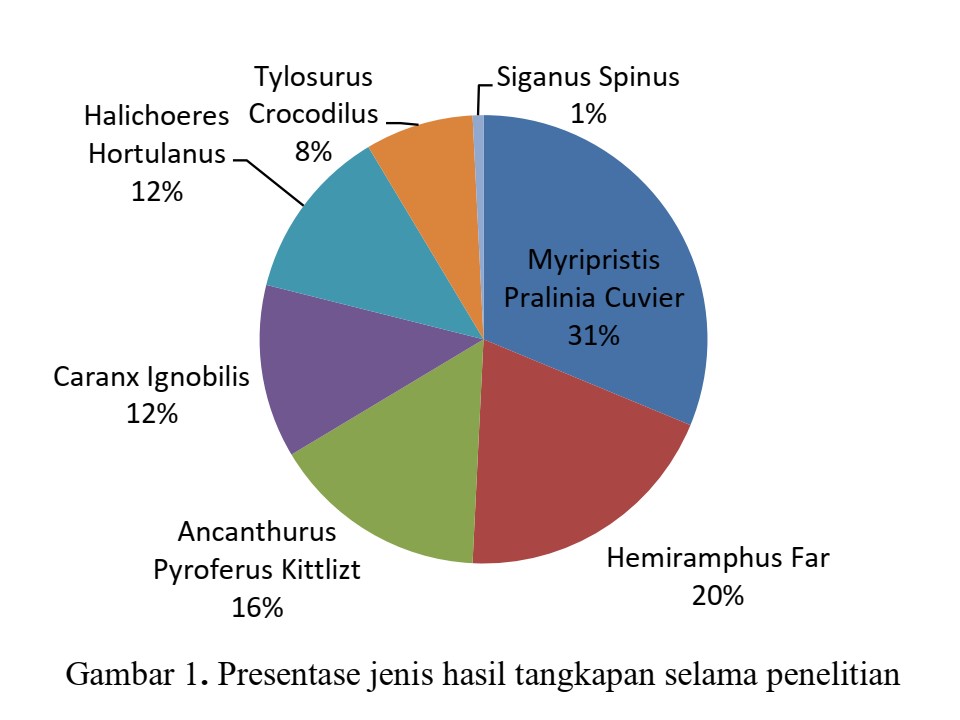 Downloads
How to Cite
Notanubun, J., Ngamel , Y. A., & Bukutubun, S. (2022). The Diversity of The Kinds Caught and The Synchronization of Surface Gill Net Catching Time in The Waters of Ohoi Tuburngil Southeast Maluku Regency. Jurnal Sumberdaya Akuatik Indopasifik, 6(3), 259–270. https://doi.org/10.46252/jsai-fpik-unipa.2022.Vol.6.No.2.230
Section
Research Articles
License
Copyright (c) 2022 Julianus Notanubun, Yuliana A. Ngamel , Sergius Bukutubun
This work is licensed under a Creative Commons Attribution-ShareAlike 4.0 International License.