Starfish Species, Density, and Size Composition in South Leato Beach, Gorontalo
Keywords:
Composition of Species, Density and Size of Starfish, South Leato
Abstract
This research was conducted in April–May 2021 at three. The purpose of this study was to determine the species composition, density, and size of starfish in South Leato Coastal Waters, Gorontalo. The method used is a random sampling method using a quadratic transect measuring 5 × 5 m, which is placed on coral reefs and Sargassum three times. The results showed that there were three types of starfish in the South Leato Coast, namely Linckia laevigata, Protoreaster nodosus and Culcita novaeguineae. Consecutively higher densities of starfish were species (L. laevigata, P. nodosus and C. novaeguineae). The higher body height of the starfish is species (C. novaeguineae, P. nodosus and L. laevigata), while the higher body diameter is species (P. nodosus, L. laevigata, and C. novaeguineae).
Downloads
Download data is not yet available.
References
Alfatmadina, N., Ode, L., dan Yasir, M. 2019. Preferensi habitat bintang laut (asteroidea) di padang lamun Perairan Desa Langara Bajo, Konawe Kepulauan. 4(1), 23–29.
Aziz, A. 1988. Pengaruh tekanan panas terhadap fauna ekhinodermata. Oseana, XIII(3), 125–132.
Binambuni, P., Langoy, M., dan Katili, D. Y. 2019. Keanekaragaman jenis bintang laut di Pantai Bahowo Kecamatan Bunaken Kota Manado Sulawesi Utara. Pharmacon, 8(1), 65–72.
Ernawati, N. W., Arthana, I. W., dan Ernawati, N. M. 2019. Kelimpahan , keanekaragaman , dan pertumbuhan alami (asteroidea) di Perairan Pantai Semawang dan Pantai Samuh, Bali. Current Trends in Aquatic Science, II(1), 46–53.
Farizi, A. H. Al. 2019. Diversitas asteroidea (bintang laut) di Pulau Mandangin Sampang Madura. Skripsi, 1–65.
Fitriana, N. 2010. Inventarisasi bintang laut (Echinodermata: asteroidea) di Pantai Pulau Pari, Kabupaten ADM. Kepulauan Seribu. Jurnal Ilmiah Faktor Exacta, 3(2), 167–174.
Frisca, H., Puspita, L., dan Syamsi, F. 2020. Struktur Komunitas Asteroidea dan Holothuroidea di Pantai Melayu dan Pantai Sembulang Pulau Rempang Kota Batam. Simbiosa, 9(2), 138–149.
Katili, A. S. 2011. Struktur komunitas echinodermata pada zona intertidal di gorontalo. Jurnal Penelitian dan Pendidikan, 8(1), 51–61.
Liadi, J., El-Rahmi, S. A., dan Devira, C. N. 2018. Komunitas bintang laut ( filum echinodermata ) di Perairan Pantai Sabang. Jurnal Ilmiah Mahasiswa Kelautan dan Perikanan Unsyiah, 3(3), 145–150.
Mutaqin, B. W., Yuendini, E. P., Aditya, B., Rachmi, I. N., Fathurrizqi, M. I., Damayanti, S. I., Ahadiah, S. N., dan Puspitasari, N. N. A. 2020. Kelimpahan megabentos sebagai indikator kesehatan karang di Perairan Bilik, Taman Nasional Baluran, Indonesia. Jurnal Enggano, 5(2), 181–194.
Ningsih, R. Z., Taib, E. N., dan Agustina, E. 2018. Karakteristik filum echinodermata di Pulau Dua Kabupaten Aceh Selatan. Prosiding Seminar Nasional Biotik, 129–137.
Nurafni, Muhammad, S. H., dan Ikbal, S. 2019. Keanekaragaman echinodermata di Perairan Pulau Ngele Ngele Kecil, Kabupaten Pulau Morotai. Ilmu kelautan Kepulauan, 2(2), 74–83.
Patty, S. I. 2018. Oksigen terlarut dan apparent oxygen utilization di Perairan Selat Lembeh, Sulawesi Utara. Jurnal Ilmiah Platax, 6(1), 54–60. Piter, D., Angkouw, E. D., dan Losung, F. 2019. Potensi antibakteri bintang laut dari Perairan Pantai Kelurahan Tongkaina Manado. Jurnal Pesisir dan Laut Tropis, 7(3), 167–173.
Setyowati, D. A., Supriharyono, S., dan Taufani, W. T. 2018. Bioekologi bintang laut (asteroidea) di Perairan Pulau Menjangan Kecil, Kepulauan Karimunjawa. Management of Aquatic Resources Journal (MAQUARES), 6(4), 393–400.
Wahyuni, S. 2003. Studi tentang struktur komunitas echinodermata pada ekosistem lamun Pantai Pandaratan Kabupaten Tapanuli Tengah Provinsi Sumatera Utara. Skripsi, 4–16.
Yusron, E. 2012. Keanekaragaman jenis ekhinodermata di Perairan Likupang, Minahasa Utara, Sulawesi Utara. Ilmu Kelautan: Indonesian Journal of Marine Sciences, 15(2), 85-90–90.
Zamani, N. P. 2015. Kondisi terumbu karang dan asosiasinya dengan bintang laut di Perairan Pulau Tunda, Kabupaten Seram, Provinsi Banten. Jurnal Teknologi Perikanan dan Kelautan, 6(1), 1–10.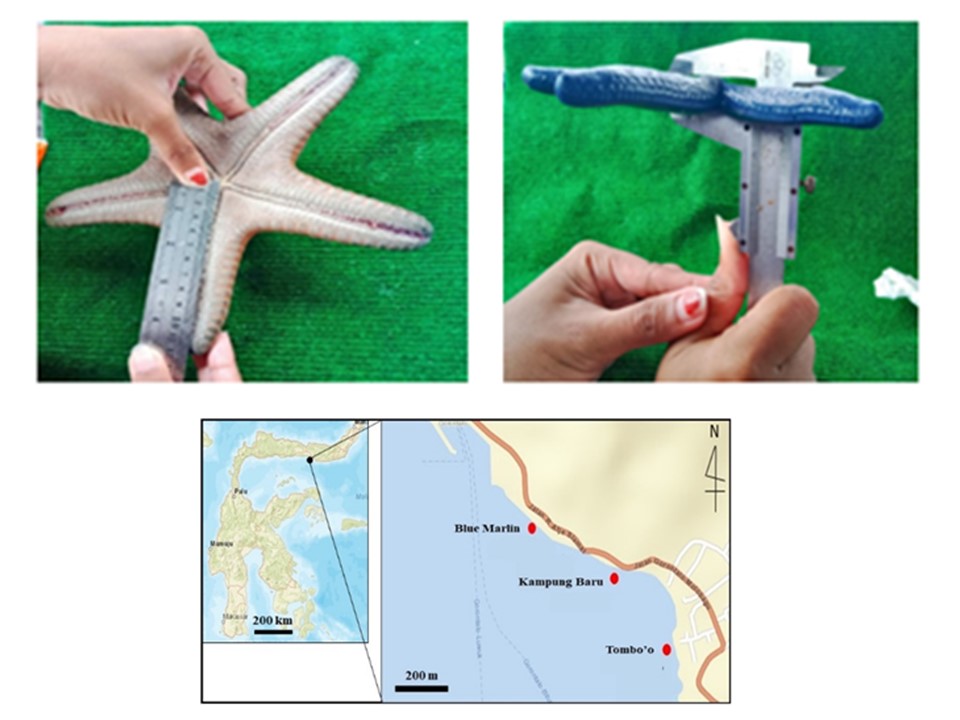 Downloads
How to Cite
Modek, M., Damayani, N. W., Asni, A., Wiranti, N., Nane, L., & Nursinar, S. (2022). Starfish Species, Density, and Size Composition in South Leato Beach, Gorontalo. Jurnal Sumberdaya Akuatik Indopasifik, 6(2), 115–120. Retrieved from https://ejournalfpikunipa.ac.id/index.php/JSAI/article/view/196
Section
Research Articles
License
Copyright (c) 2022 Merike Modek, Wayan Damayani, Asni, Nur Wiranti, La Nane, Sitti Nursinar
This work is licensed under a Creative Commons Attribution-ShareAlike 4.0 International License.