Water Temperature Increasing Caused Mastigias Papua Disappeared in Marine Lake Lenmakana Misool Raja Ampat Regency, West Papua
Keywords:
Mastigias Papua, Marine Lake, surface temperature, Misool, Raja Ampat
Abstract
Mastigias papua is a jellyfish that is trademark of marine lakes. Ongeim'l Tketau Lake in Palau, Hang Du I  Lake in Vietnam, Kakaban Lake in Kalimantan, and Lenmakana Lake in Raja Ampat Papua are exotic tourist destinations because of presence of these biota in the lake. Water temperature is very influential on the life of a jellyfish because of its mutual symbiosis with brown algae zooxanthellae. Mastigias has totally disappeared in several places due to water temperature increasing, including Lenmakana Lake in the West Monsoon 2017/2018 and 2018/2019. The absence of Mastigias in this lake will be explained by recorded logger data installed in the lake and at sea. Secondary data from NOAA and BMKG will be used to explain the condition of absence of jellyfish. Water lake temperature data showed an increase to 2.5oC when the Mastigias disappeared. Temperature increasing occur due to seasonal cycle patterns of lake water temperatures and weather cycles which change in time, the dry season occurs faster and the rainy season occurs slower. Conversely, in the West Monsoon 2019/2020, Mastigias still found in the lake. The rainy season which is 20 days faster than normal condition helps reduce the heat in West Monsoon.
Downloads
Download data is not yet available.
References
Becking, L. E., de Leeuw, C., & Vogler, C., 2014. Newly Discovered "Jellyfish Lakes" in Misool, Raja Ampat, Papua, Indonesia Marine Biodiversity, 45(4), 597–598. https://doi.org/10.1007/s12526-014-0268-6

Becking, L. E., Renema, W., Santodomingo, N., Hoeksema, B. W., Tuti, J., & Voogd de, N. J., 2011. Recently Discovered Landlocked Basins in Indonesia Reveal High Habitat Diversity in Anchialine Systems. Hydrobiologia. https://doi.org/10.1007/s10750-011-0742-0

BMKG., 2017a. Prakiraan Musim Hujan 2017/2018 di Indonesia. BMKG. http://www.bmkg.go.id/

BMKG., 2017b. Prakiraan Musim Kemarau 2017 di Indonesia. BMKG. http://www.bmkg.go.id

BMKG., 2018a. Prakiraan Musim Hujan 2018/2019 di Indonesia. BMKG. http://www.bmkg.go.id

BMKG., 2018b. Prakiraan Musim Kemarau 2018 di Indonesia. BMKG. http://www.bmkg.go.id

BMKG., 2019. Prakiraan Musim Hujan 2019/2020 di Indonesia. BMKG. http://www.bmkg.go.id

Cerrano, C., Azzini, F., Bavestrello, G., Calcinai, B., Pansini, M., Sarti, M., & Thung, D., 2006. Marine lakes of karst islands in Ha Long Bay (Vietnam). Chemistry and Ecology, 22(6), 489–500. https://doi.org/10.1080/02757540601024835

Colin, P. L., 2009. Marine Enviroments of Palau. Indo-Pacific Press.

Dawson, M.N., Martin, L. E., & Penland, L. K., 2001. Jellyfish Swarms, Tourists, and the Christ-child. Hydrobiologia, 451, 131–144.

Dawson, Michael N., & Hamner, W. M., 2003. Geographic variation and behavioral evolution in marine plankton: The case of Mastigias (Scyphozoa, Rhizostomeae). Marine Biology, 143(6), 1161–1174. https://doi.org/10.1007/s00227-003-1155-z

Hale, G., 1999. The Classification and Distribution of the Class Scyphozoa. University of Oregon. http://gladstone.uoregon.edu/~ghale/pdf /scyphozoa.pdf.

Hamner, W. M., & Hamner, P. P., 1998. Stratified Meromictic Lakes of Palau (Western Caroline Island). Physical Geography, 175–220.

Mangubhai, S., Erdmann, M. V, Wilson, J. R., Huffard, C. L., Ballamu, F., Hidayat, N. I., Hitipeuw, C., Lazuardi, M. ., Muhajir, Pada, D., Purba, G., Rotinsulu, C., Rumetna, L., Sumolang, K., & Wen, W., 2012. Papuan Bird's Head Seascape: Emerging Threats and Challenges in the Global Center of Marine Biodiversity. Marine Pollution Bulletin, 64(11), 2279–2295. https://doi.org/10.1016/j.marpolbul.2012.07.024

Purba, G. Y. S., 2018. Genesis dan Karakteristik Danau Laut di Misool Kabupaten Raja Ampat Papua Barat. Universitas Gadjah Mada.

Purba, G. Y. S., Haryono, E., Sunarto, Manan, J., Rumenta, L., Purwanto, & Becking, L. E., 2018. Jellyfish Lakes at Misool Islands, Raja Ampat, West Papua, Indonesia. Biodiversitas, 19(1), 172–182. https://doi.org/10.13057/biodiv/d190124

Purba, G. Y. S., Thomas, P. F., Mansawan, A., Erdmann, M., Rotinsulu, C., Marwoto, & Ampou, E. E., 2012. Perbandingan Suhu Permukaan Laut antara AVHRR-NOAA, HOBO PRO, dan BUOY TAO di Teluk Cenderawasih Papua. In B. dkk Nababan (Ed.), Pertemuan Ilmiah Nasional Tahunan VIII ISOI 25-27 September 2011. Ikatan Sarjana Oseanologi Indonesia.

Santodomingo, N., 2009. Unravelling the Moon Sponges: On the Ecology and Phylogeni of Cinchyrella spp. and Paratetilla spp. (Spirophorida: Tetillidae) in Indonesian Anchialine Lakes (Master Pro). Laiden University-Naturalis.

Ulath, M. A., 2012. Suhu Permukaan Perairan Raja Ampat Propinsi Papua Barat (Hasil Citra 2006-2008). Jurnal Airaha, 01.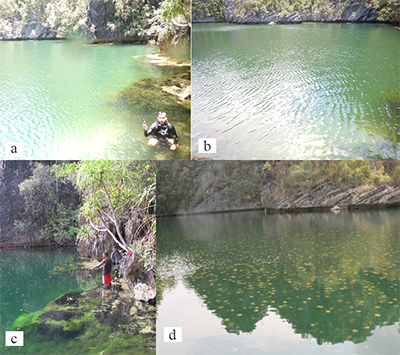 Downloads
How to Cite
Purba, G. Y. (2020). Water Temperature Increasing Caused Mastigias Papua Disappeared in Marine Lake Lenmakana Misool Raja Ampat Regency, West Papua. Jurnal Sumberdaya Akuatik Indopasifik, 4(1), 1–10. https://doi.org/10.46252/jsai-fpik-unipa.2020.Vol.4.No.1.96
Section
Research Articles