Growth And Reproduction Of Mulloway Fish (Argyrosomus japonicus) In Estuary Area, Merauke Regency
Sunarni Sunarni

Universitas Musamus

Modesta R Maturbongs

Jurusan Manajemen Sumberdaya Perairan, Universitas Musamus Merauke
DOI:
https://doi.org/10.30862/jsai-fpik-unipa.2018.Vol.2.No.1.46

This Work is licensed under: Creative Commons Attribution-NonCommercial-ShareAlike 4.0 International License.
Abstract
Gulamah fish bioecological research (Argyrosomus japonicas) in the estuary area of the coastal city of Merauke is very important to be done as a management effort. The purpose of the research on the bioecological of Gulamah fish in the estuary area of the coastal city of Merauke is to study aspects of population dynamics and reproductive biology aspects. The study was conducted in the Estuari area of the coastal city of Merauke for 3 months in November 2017 - January 2018. The research station was determined by purposive sampling. Gulamah fish growth patterns based on long and heavy relationship data are allometric negative. fish Gulamah males and females both at station I and station II also have relatively the same condition factor. The sex ratio between male and female Gulamah fish is 1: 1. Maturity level of gonad fish Gulamah caught during the research is still at TKG 1.
Downloads
Download data is not yet available.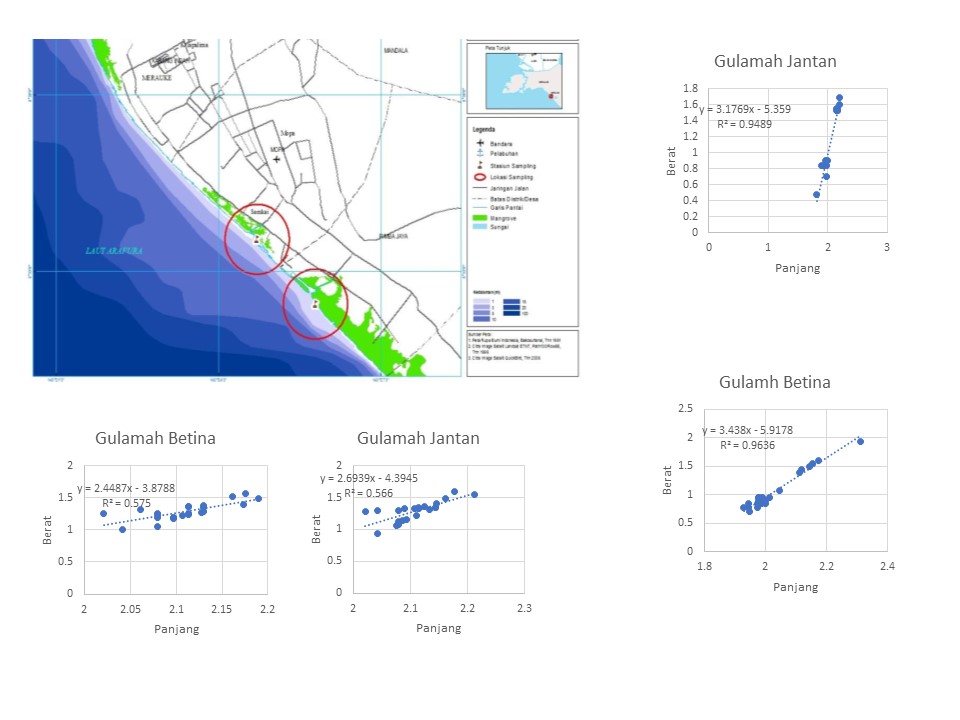 Abstract view : 662 times

PDF Views : 903 times
Keywords:
Bioecology; Gulamah Fish; Estuary., Bioecology, Gulamah Fish, estuary
Section
Research Articles