Influence Of Differences Bait Types On The Catching Result Of Kakatua Fish (family scaridae) Using Handlines
Julius Mose Rahaningmas

1. Jurusan Teknologi Hasil Perikanan Prodi Teknologi Penangkapan Ikan, Poltek Tual, 39411, Indonesia.

Ali Mansyur

2. Jurusan Teknologi Hasil Perikanan Prodi Agribisnis Perikanan, Poltek Tual, 39411, Indonesia
DOI:
https://doi.org/10.30862/jsai-fpik-unipa.2018.Vol.2.No.1.45

This Work is licensed under: Creative Commons Attribution-NonCommercial-ShareAlike 4.0 International License.
Abstract
The Success of kakatua fish catching (family scaridae) using very good handline was determined by bait. The type of bait that is always used by fishermen are crab and anchovy. The objectives of the study were 1) to determine the type of bait that faster to catch kakatua fish in large quantities, and 2) to determine the most effective time to catch kakatua fish in handline operation. Research activities were conducted in Watdek waters, Southeast Moluccas in March to May 2017. The catching operation is done simultaneously by two fisherman who use handlines above the speed boat. In one day 4 catching were made, between 06: 00-08: 00 am, 08: 00-10: 00 am, 14: 00-16: 00 pm, and 16: 00-18: 00 pm. This study used a comparative descriptive analysis method to analyze the difference time of kakatua fish catching. While statistical analysis of complete randomized design (RAL) was used to see the effect of bait type on the number of catches. The results showed that the crab bait obtained the highest, namely 318 fish or 70% and anchovy bait catch 135 fish or 30%. The best time to catch the kakatua fish (family scaridae) is at 06.00-08.00 am get 226 fish or 50%, 08.00-10.00 am gets 108 fish or (24%), at 16.00-18.00 pm gets 57 fish or (13%) and at 14.00- 16.00 pm gets 62 fish or 14%.
Downloads
Download data is not yet available.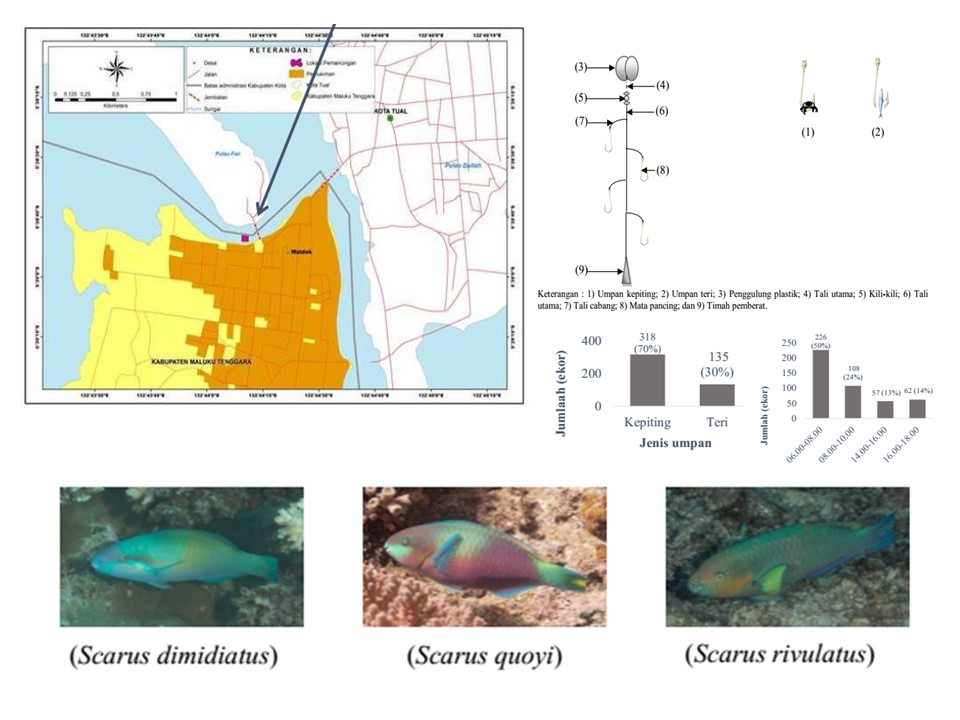 Abstract view : 221 times

PDF Views : 363 times
Keywords:
Kakatua, Crabs, Anchovy, Handlines, Watdek
Section
Research Articles