Sea Water Quality Assessment Based on Tidal Condition in Sawaibu Bay Manokwari
STUDI AWAL KUALITAS PERAIRAN DI TELUK SAWAIBU MANOKWARI
Luky Sembel

Jurusan Ilmu Kelautan

Jemmy Manan

Jurusan Kelautan, FPIK UNIPA, Manokwari, 98314, Indonesia
DOI:
https://doi.org/10.30862/jsai-fpik-unipa.2018.Vol.2.No.1.28

This Work is licensed under: Creative Commons Attribution-NonCommercial-ShareAlike 4.0 International License.
Abstract
Sanggeng traditional market that located in the coastal area of Manokwari city as a community trade center which providing daily community needs. Generally, the commodities that available are either household need, fish market and agriculture products, in addition due to market location in the city center it effects to highly community activities. Thus, effect to uncontrolled organic waste is source from mainly agricultural product, fishes, and also from others organic products. This condition is happening in highly intensity and still continues everyday, so it could affect to waters environmental degradation. Indicator that used to assessing water quality degradation based on highly organic waste is by assessed organic concentration then comparing with KLH 51 year 2004. Based on result of turbidity and dissolved oxygen parameter was found that highly condition at BLK location. In addition, highest TSS and TOM was found at waters around of hadi Mall. Highest BOD5 concentration was found in around of Fish market waters. Tides factor also effected to physical and chemical distribution in these waters. This condition shows that organic waste impact to water quality at Sawaibu Bay could affect to waters organisms' life
Downloads
Download data is not yet available.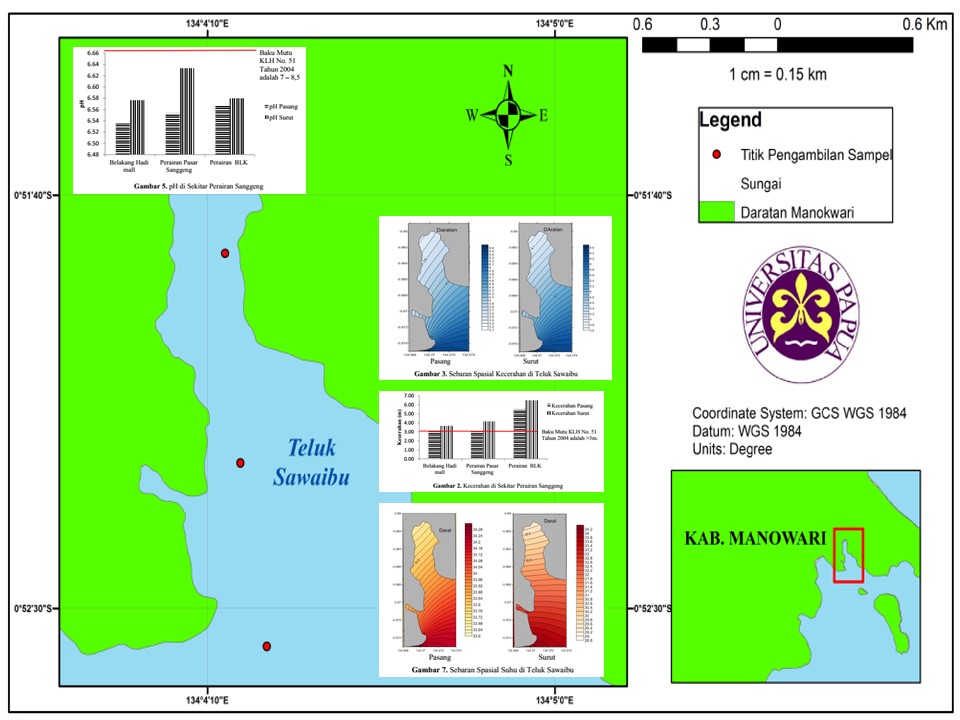 Abstract view : 328 times

PDF Views : 642 times
Keywords:
Water Quality, Organic Waste, Sawaibu Bay
Section
Research Articles