Gonad Maturation of Java Combtail Broodstock (Belontia hasselti Cuvier, 1831) with Different Stock Densities in Embung Sriwijaya
Keywords:
Domestication, Gonad, Java combtail (Belontia hasselti Cuvier, 1831), Density
Statistic:

Abstract views: 49 ,

PDF downloads: 46
Abstract
The domestication of java combtail (Belontia hasselti Cuvier, 1831) has not been carried out so far, its existence in nature is getting less and less. This causes the domestication of java combtail to be very important, so that it can maintain sustainability and meet market demand for these fish. Stocking density is one of the factors that influence the development of gonadal maturity levels. The purpose of this study was to determine the best stocking density in the maturation of java combtail broodstock. This research was conducted at the Sriwijaya Reservoir, Aquaculture Laboratory and Experimental Ponds, Department of Fisheries, Universitas Sriwijaya. The test fish used were obtained from the catch of fishermen in the swamp area on the Belida River, Gumai Village. The results of the rearing of java combtail with different stocking densities in P2 treatment significantly affected the male gonad maturity index of 1.11±1.63% and females of 13.91±17.06%, male gonad index of 7.98±10 .53 and females 81.63±107.54, fecundity of 4174±4884 eggs and egg diameter of 40.34±45.97 m. Meanwhile, the maturity level of fish gonads was faster, especially in female java combtail (B. hasselti Cuvier, 1831) at TKG IV.
Downloads
Download data is not yet available.
References
Ali, S. A. dan M. N. Nessa. (2006). Status ilmu pengetahuan ikan terbang di Indonesia. Dalam Omar et al. (eds). Prosiding Lokakarya Nasional Perikanan Ikan Terbang. Makassar Halaman 16-37.
Omar, A. S. B. (2012). Modul Praktikum Biologi Perikanan. Jurusan Perika-nan, Fakultas Ilmu Kelautan dan Perikanan, Universitas Hasanuddin. Makassar. 168 hal.
Aryani, N. (2002). Penggunaan Vitamin E Pada Pakan Untuk Pematangan Gonad Ikan Baung (Mystus nemu-rus). Jurnal Perikanan dan Ilmu Kelautan. Fakultas, 6(1), 28-36
Effendi, Ichsan, M. (1997). Biologi Perikanan: Yayasan Pustaka Nu-santara.
Effendie, M. I., (2002). Biologi Perika-nan. Bogor : Yayasan Pustaka Nusatama.
Etika D, Muslim dan Yulisman. (2013). Perkembangan Diameter Telur Ikan Betok (Anabas testudineus) yang diberi Pakan diperkaya Vitamin E dengan Dosis Berbeda. Jurnal Perikanan dan Kelautan, 18(2), 26-36.
Dahlan, M. A., Sharifuddin, B. A. O., Joeharnani, T., Muhammad, N., dan Moh, T. U. (2015). Beberapa aspek reproduksi ikan layang deles (Decapterus macrosoma Bleeker, 1841) yang tertangkap dengan bagan perahu di Perairan Kabupa-ten Barru, Sulawesi Selatan. Jurnal IPTEKS PSP, 2(3), 218-227.
Dahuri, R., (1996). Pengelolaan Sumber-daya Pesisir dan Lautan Secara Terpadu. PT. Pramadya Paramita. Jakarta.
Harianti. (2013). Fekunditas dan Diameter Telur Ikan Gabus (Channa striata bloch, 1793) Di Danau Tempe, Kabupaten Wajo. Jurnal Saintek Perikanan 8(2), 1-7.
Ihkamuddin. Z., Sri. R., dan Irwani. (2014). Kondisi Kematangan Go-nad Ikan Kerang pada Bulan Februari di Perairan Pulau Koon, Seram Bagian Timur Maluku. Journal of Marine Research. 3(3), 359-365.
Jayanti, N. L. S. R. D., Perwira, I.Y., dan Pratiwi, M.A. (2021). Kajian Aspek Reproduksi Ikan Tongkol (Auxis thazard) yang Didaratkan di Pantai Segara Kusamba, Bali pada Musim Barat. Current Trends in Aquatic Science 4(1), 69-75.
Kamler, E. (1992). Early life history of fish and energetic approach. Chapman and Hall. London.
Kasmi, M., Syamsul, H., dan Wayan, K. (2017). Biologi reproduksi ikan kembung lelaki, Rastreliger kanagurta (Cuvier, 1816) di Perairan Pesisir Takalar, Sulawesi Selatan. Jurnal Iktiologi Indonesia, 17(3), 259-271.
Khakim, A.L., Sukendi dan Alawi, H., (2015). The effect of combination of stocking density and food types on gonad maturation and egg quality of hard lipped barb (Osteochilus hasselti CV). Jurnal Perikanan dan Ilmu Kelautan.
Maulana, E.A., (2020). Biologi Reproduksi Ikan Selincah (Belontia hasselti Cuvier 1831) Di Rawa Banjiran Sungai Air Hitam Kecamatan Payung Sekaki Kota Pekanbaru Provinsi Riau. Skripsi. Universitas Riau.
Muthmainnah, D., dan Nurwanti., (2008). Mengenal Ikan Perairan Umum. Jilid 2. Palembang: Badan Riset Perikanan Perairan Umum.
Nikolsky, G.V., (1969). Theory of Fish Population Dynamics as the Biologycal Background for Rational Exploitation and Management of Fishery Resources. Oliver and Byd. Edinburgh.
Persada, L. G., Utami, E., dan Rosalina, D. (2016). Aspek reproduksi ikan kurisi (Nemipterus furcosus) yang didaratkan di Pelabuhan Perikanan Nusantara Sungai Liat. Jurnal Sumberdaya Perarian, 10(2), 345-356.
Rahardjo, M. F., Sjafei, D. S., Affandi, R., Sulistiono, dan Hutabarat, J. (2011). Iktiology. Bandung, Indonesia: Penerbit Lubuk Agung.
Sardewi, P. S. Ali M dan Mennofatria B. (2018). Kematangan Gonad dan Potensi Produksi Ikan Swanggi (Priacanthus tayenus Richardson, 1846) di Perairan Palabuhanratu, Sukabumi. Jurnal Pengelolaan Perikanan Tropis, 2(2), 45-53.
Sukendi. (2007). Fisiologi reproduksi ikan. Edisi Pertama. MM Pres CV. Mina Mandiri Pekanbaru.
Sukendi., Ridwan, M. P. dan Nur A., (2013). Pematangan gonad calon induk ikan sepat mutiara (Tricho-gaster leeri blkr) dalam keramba dengan padat tebar berbeda. Jurnal Perikanan dan Kelautan. 18(1), 71- 82.
Sulistiono. (2012). Reproduksi ikan beloso (Glossogobius giuris) di perairan Ujung Pangkah Jawa Timur. Jurnal Akuakultur Indonesia, 11(1), 64-75.
Sutisna, D. H., dan Sutarmanto, R. 1995. Pembenihan Ikan Air Tawar. Kanisius. Yogyakarta.
Suwarso dan Bambang S. (1995). Perkembangan Kematangan Gonad Ikan Bentong, Selar rumenopbt-balmus (Carangidae) di Laut Jawa. Balai Penelitian Laut. Jakarta.
Watanabe, T., M.J. Lee, J. Mitzutani, T. Yamada, S. Satoh, T Takeuchi, N. Yossida, T. Kitada and T. Arakawa. (1991). Effective components in cuttlefish meal and raw krill for improvement of quality of red sea bream Pagrus major eggs. Bull. Jpn. Soc.Sci.Fish, 57(4):681-694.
Wootton, R.J. (1990). Ecology of Teleost Fishes. University College of Wales, Aberystwyth. London. 403 p.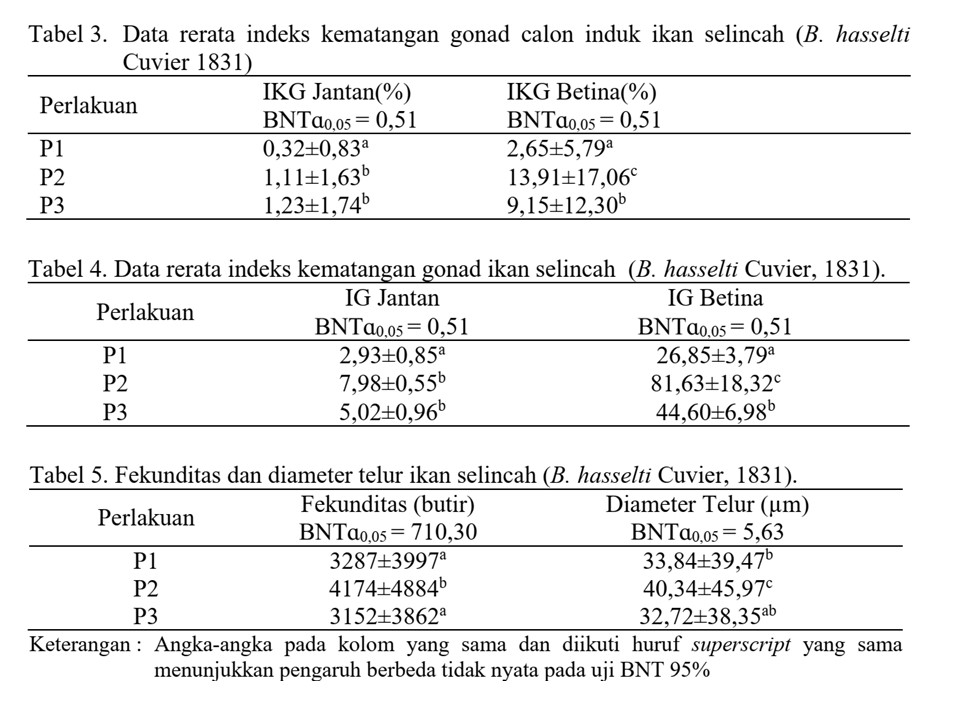 Downloads
How to Cite
Yonarta, D., Tanbiyaskur, T., Syaifudin, M., Sari, D. I., & Sanjaya, R. (2023). Gonad Maturation of Java Combtail Broodstock (Belontia hasselti Cuvier, 1831) with Different Stock Densities in Embung Sriwijaya. Jurnal Sumberdaya Akuatik Indopasifik, 7(1), 23–32. https://doi.org/10.46252/jsai-fpik-unipa.2023.Vol.7.No.1.278
Section
Research Articles
License
Copyright (c) 2023 Danang Yonarta, Tanbiyaskur, Mochamad Syaifudin, Dwi Inda Sari, Rupi Sanjaya
This work is licensed under a Creative Commons Attribution-ShareAlike 4.0 International License.
Abstract views: 49 , PDF downloads: 46