Marine Space Allocation Analysis for Coastal Area and Small Island Zone in Lampung Province
Keywords:
Space allocation, zoning, Lampung
Statistic:

Abstract views: 783 ,

PDF downloads: 1448
Abstract
The Zoning Plan for Coastal Zone and Small Islands (RZWP3K) is a plan that determines the direction of resource use for each planning unit accompanied by the determination of the structure and spatial pattern in the coastal planning area. The purpose of this study was to analyze the spatial allocation of marine waters in the Zoning Plan for Coastal Zone and Small Islands in Lampung Province. The method used is the descriptive method. The results of the Zoning Plan analysis for Coastal Areas and Small Islands of Lampung Province are to divide five areas of zoning, namely Public Utilization Areas, Conservation Areas, Certain National Strategic Areas, and Sea Channels, and Special National Strategic Areas. The Public Utilization Area of 1,392,588.32 Ha consists of 7 zones, namely the Tourism Zone, Settlement Zone, Port Zone, Mining Zone, Capture Fisheries Zone, Mariculture Zone, and/or Industrial Zone. The Conservation Area covering an area of 351.645,15 Ha consists of Coastal and Small Islands Conservation Areas/KKP3K (123,080.40 Ha), Marine Conservation Areas/KKP (197,008.75 Ha), and Nature Reserve Areas (31,556.00 Ha). Certain National Strategic Areas covering 73,896.12 Ha, consist of the Outer Small Island of Betuah Island. The National Strategic Area covering 35,194.52 Ha consists of the Lampung Bay Military Training Area and the Sunda Strait Area (KSS). Sea lanes are used for shipping lanes, underwater pipelines/cables, and the migration of marine life. The Zoning Plan for Coastal Zone and Small Islands is an important document for the Provincial Government as the basis for granting a water business permit.
Downloads
Download data is not yet available.
References
Alfiaturrohmaniah, Amdani dan Djari, A.,A. (2020). Kesesuaian Wisata Bahari di Pantai Tanjung Benoa, Provinsi Bali. Pelagicus : Jurnal IPTEK Terapan Perikanan dan Kelautan 1 (1): 11-20.

Badan Pusat Statistik Lampung. (2020). Lampung Dalam Angka. Lampung.

Ditjen Perhubungan Laut. (2017). Petunjuk Teknis Penyusunan Batas-Batas Derah Lingkungan Kerja (DLKR) dan Daerah Lingkungan Kepentingan Pelabuhan. Kementerian Perhubungan, Jakarta.

Ditjen Pengelolaan Ruang Laut Kementerian Kelautan dan Perikanan. (2020). Tata Cara Penyusunan Dokumen Rencana Zonasi Wilayah Pesisir dan Pulau-Pulau Kecil. Kementerian Kelautan dan Kelautan, Jakarta.

Doman, D. (2019). Kesesuaian Pengaturan Pemanfaatan Zona Migrasi Biota Laut dalam Peraturan-Peraturan Daerah Provinsi dengan UU tentang Pengelolaan Wilayah Pesisir dan Pulau-Pulau Kecil (UU WP3K). Jurnal Hukum Lingkungan Indonesia 6(1): 145-153. https://doi.org/10.38011/jhli.v6i1.118

Effendi, I., Suprayudi, M.A,, Surawidjaja, E.H., Supriyono E., Zairin, M., and Sukenda. (2016). Production Performance of White Shrimp (Litopenaeus vannamei) under Sea Floating Net Cages with Biofloc and Periphyton Juvenile. AACL Bioflux, 9 (4): 823-832.

Hasbullah, M. (2016). Strategi Penguatan Galangan Kapal Nasional Dalam Rangka Memperkuat Efektifitas dan Efektifitas dan Efisiensi Armada Pelayaran Domestik Nasional Nasional 2030. Jurnal Riset dan Teknologi Kelautan (JRTK) 14 (1): 103-112.

Husnah. (2015). Analisa Derah Lingkungan Kerja (DLKr) dan Daerah Lingkungan Kepentingan Pelabuhan (DLKp) Terminal Khusus PT. RAPP di Desa Penyengat Kecamatan Sungai APIT Kabupaten Siak, Provinsi Riau. Jurnal Teknik Sipil Siklus 1 (2): 98-108.

Kementerian Perhubungan. (2011). Peraturan Menteri Perhubungan No: PM 68 Tahun 2011 tentang Alur Pelayaran di Laut. Jakarta.

Kementerian Kelautan dan Perikanan. (2015). Kelautan dan Perikanan Dalam Angka 2015. Kementerian Kelautan dan Perikanan, Jakarta.

Kementerian Kelautan dan Perikanan. (2016). Peraturan Menteri Kelautan dan Perikanan No 23/Permen-KP/2016 tentang Perencanaan Pengelolaan Wilayah Pesisir dan Pulau-Pulau Kecil. Jakarta.

Kementrian Kelautan dan Perikanan. (2021). Keputusan Menteri No 14 tahun 2021 tentang Alur Pipa dan atau Kabel Bawah Laut. Jakarta.

Kementerian Hukum dan Hak Asasi Manusia. (2019). Peraturan Pemerintah No 32 Tahun 2019 tentang Rencana Tata Ruang Laut. Jakarta.

Krueck, N.C., Ahmadja, G.N., Possingham, H.P., Rginos, C., Treml, E.A, Mumby, P.J., (2017). Marine Reserve Targets to Sustain and Rebuild Unregulated Fisheries. PloS Biology 15 (1): 1-20. https://doi.org/10.1371/journal.pbio.2000537

Perez-Ruzafa, A., Garcia-Charton, J.A., Marcos, C. (2017). North East Atlantic vs. Mediterranean Marine Protected Areas as Fisheries Management Tool. Frontiers in Marine Science 4 (245): 1-13. https://doi.org/10.3389/fmars.2017.00245

Putri, J.M.Z, Budisusanto, Y., dan Pribadi, C.B. (2019). Evaluasi Daya Dukung Ruang Laut Zona Perikanan Tangkap Berdasarkan Data Eksisting dan RZWP3K (Studi Kasus:Pesisir Selatan Kabupaten Sampang). Jurnal Teknik ITS 8 (2): 223-228.

Radiarta, I.N, Erlania dan Sugama, K. (2014). Budidaya Rumput Laut, Kappaphycus alvarezii secara Terintegrasi dengan Ikan Kerapu di Teluk Gerupuk Kabupaten Lombok Tengah, Nusa Tenggara Barat. Jurnal Riset Akuakultur 9 (1): 111-124.

Sidiq, M., Suharyanto, Astuti, R.Y., dan Ardarini, F. (2019). Analisis Kesesuaian Rencana Zonasi Kawasan Strategis Nasional Tertentu terhadap Pemanfaatan Ruang Laut Eksisting Sektor Wisata Bahari di Pulau Kecil Terluar. Prosing Seminar Nasional Geomatika: Penggunaan dan Pengembangan Produk Informasi Geospasial Mendukung Daya Saing Nasional, Februari 2018.

Suraji, Hasan, H., Suharyanto, Yonvitner, Koeshendrajana,S., Prasetiyo, D.E, Widianto, A, dan Dermawan, A. (2020). Nilai Penting dan Strategis Nasional Rencana Zonasi Kawasan Taman Nasional Komodo. Jurnal Sosial Ekonomi Kelautan dan Perikanan 15 (1): 15-32. http://dx.doi.org/10.15578/jsekp.v15i1.8888

Teng, X., Zhao, Q., Zhang, P., Liu,L., Dong,Y., Hu, H., Yue, Q., Ou,.L. and Xu, W. (2019). Implementing Marine Functional Zoning in China. Marine Policy. Article in Press. https://doi.org/10.1016/j.marpol.2019.02.055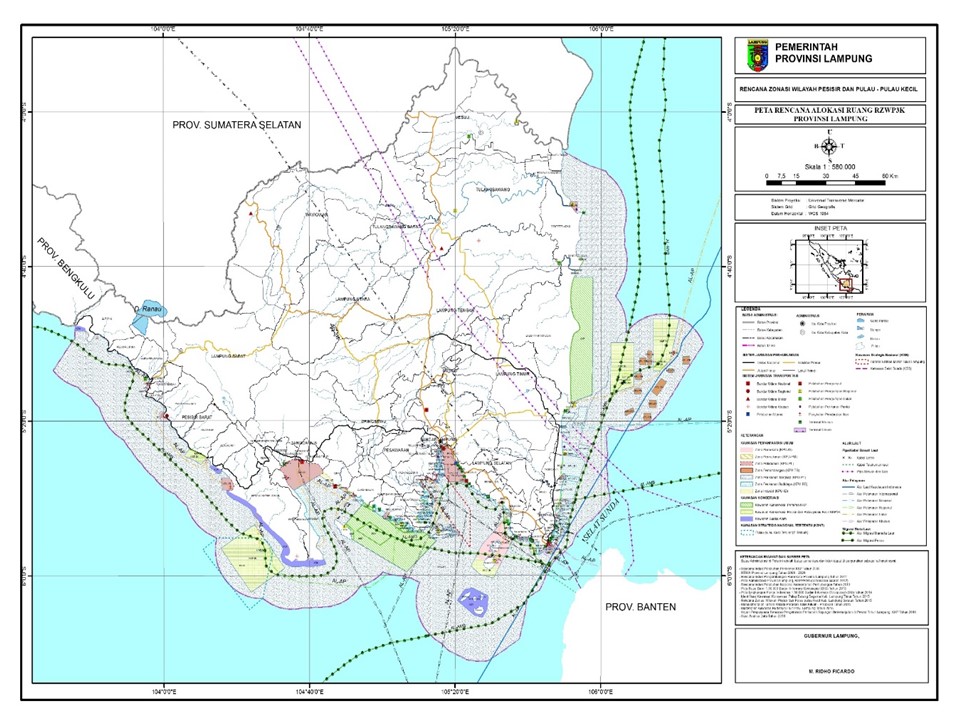 Downloads
How to Cite
Parjito, P., Buchari, H., Widiastuti, E. L., & Bakri, S. (2022). Marine Space Allocation Analysis for Coastal Area and Small Island Zone in Lampung Province. Jurnal Sumberdaya Akuatik Indopasifik, 6(1), 11–24. https://doi.org/10.46252/jsai-fpik-unipa.2022.Vol.6.No.1.186
Abstract views: 783 , PDF downloads: 1448