Economic Feasibility of Cakalang Bandrong (Skipjack Tuna Blanket Net) in The Shallow Waters
Andi Adam Malik

Fakultas Pertanian Peternakan dan Perikanan, Universitas Muhammadiyah Parepare, Jalan Jend. Ahmad Yani, KM 6, Kota Pare-Pare, Sulawesi Selatan, 91131, Indonesia

Andi Sitti Halimah

Fakultas Pertanian Peternakan dan Perikanan, Universitas Muhammadiyah Parepare, Jalan Jend. Ahmad Yani, KM 6, Kota Pare-Pare, Sulawesi Selatan, 91131, Indonesia
DOI:
https://doi.org/10.46252/jsai-fpik-unipa.2021.Vol.5.No.3.132
This Work is licensed under: Creative Commons Attribution-ShareAlike 4.0 International License
Abstract
The district waters of Barru, South Sulawesi have enormous fishery potential and taken by various fishing gears. One of the fishing gears is the Cakalang bandrong (skipjack tuna blanket net) which is a fishing gear modified by the local community, catch large pelagic fish in shallow water. This study aims to determine the economic feasibility of the skipjack tuna blanket net used by fishermen in the shallow waters Barru. Data collection was carried out through interviews with bandrong owners and fishermen, while observations were made on 3 units of Cakalang bandrong fishing gear and methods. The results showed that the NPV and B/C ratio>1, IRR> 12% interest rates, with a payback period of less than 2 years, so that the fishing using the skipjack tuna blanket net fishing gear is considered profitable, so it is feasible to be developed.
Downloads
Download data is not yet available.
References
Arisandi. (2016). Inkonsistensi Kebijakan Penggunaan Jaring Trawl (Studi Kasus Penggunaan Jaring Trawl Oleh Nelayan Wilayah Perairan Gresik). JKMP Vol.4 No.1 Maret 2016 : 1-18

Genisa, (1998). Beberapa Catatan Tentang Alat Tangkap Ikan Pelagik Kecil. Oseana, Volume XXIII, Nomor 3 & 4, 1998 :19 – 34

Kusdiantoro, Fahrudin, A., Wisudo S.H., dan Juanda, B. (2019). Perikanan Tangkap di Indonesia: Potret dan Tantangan Keberlanjutannya. J. Sosek KP Vol. 14 No. 2 Desember 2019: 145-162

Mallawa, A., Amir F., Safruddin, Mallawa, E. (2020). Tingkat Keberlanjutan Alat Penangkapan Ikan Cakalang (Katsuwonus pelamis) Skala Tradisional Di Perairan Selat Makassar, Sulawesi Selatan. Prosiding Simposium Nasional VII Kelautan dan Perikanan Universitas Hasanuddin, 5 Juni 2020 : 217-226

Muhfizar dan Poltak, H. (2020). Manajemen Usaaha Perikanan. Ahlimedia Press, Malang. Hal 37
Pramudya, B. (2014). Ekonomi Teknik. IPB Press, Bogor. Hlm 100.

Pratama F.A., Boesono, H., Dwi H.T. (2012). Analisis Kelayakan Finansial Usaha Penangkapan Ikan Menggunakan Panah dan Bubu Dasar Di Perairan Karimunjawa. Journal of Fisheries Resources Utilization Management and Technology Vol.1 No.1, Hal 22-31

Silaban, J., Mustaruddin, Soeboer, D.A. (2017). Penentuan Alat Tangkap Unggulan Untuk Ikan Pelagis Kecil Di Pelabuhan Ratu Sukabumi. Albacore Vol.1 No.2 Juni 2017 : 225-234

Subani W dan Barus, H.R. (1989). Alat Penangkapan Ikan dan Udang Laut di Indonesia. Jurnal Penelitian Perikanan Laut. Jakarta. Balai Penelitian Perikanan laut. BadanPenelitian dan Pengembangan Pertanian. Departemen Pertanian. Hal 219-220.

Tangke, U. (2011). Analisis Kelayakan Usaha Perikanan Tangkap Menggunakan Alat Tangkap Gill Net dan Purse Seine Di Kecamatan Leihitu Kabupaten Maluku Tengah Provinsi Maluku. Jurnal Ilmiah agribisnis dan Perikanan (agrikan UMMU-Ternate) Volume 4 Edisi 1 (Mei 2011)

Wiratama, Wijayanto, D., Jayanto, B.B. (2017). Analisis Kelayakan Usaha Penngkapan Ikan Pada Alat Tangkap Pole and Line Di Pelabuhan Perikanan Pantai (PPP) Labuhan Lombok. Jurnal Perikanan Tangkap Vol.1 No.3 https://ejournal2.undip.ac.id/index.php/juperta/article/view/1883

Wisudo, S.H., Sakai, H.., Takeda, S., Akiyama S., and Arimoto, T. (2002). Total Lumen Estimation of Fishing Lamp by Means of Rousseau Diagram Analisys With Lux Measurement. Proceddings of International Commerative Simposium 70th Anniversary of the Javanesse Society of fisheries Science. Fisheries Science Tokyo. https://doi.org/10.2331/fishsci.68.sup1_479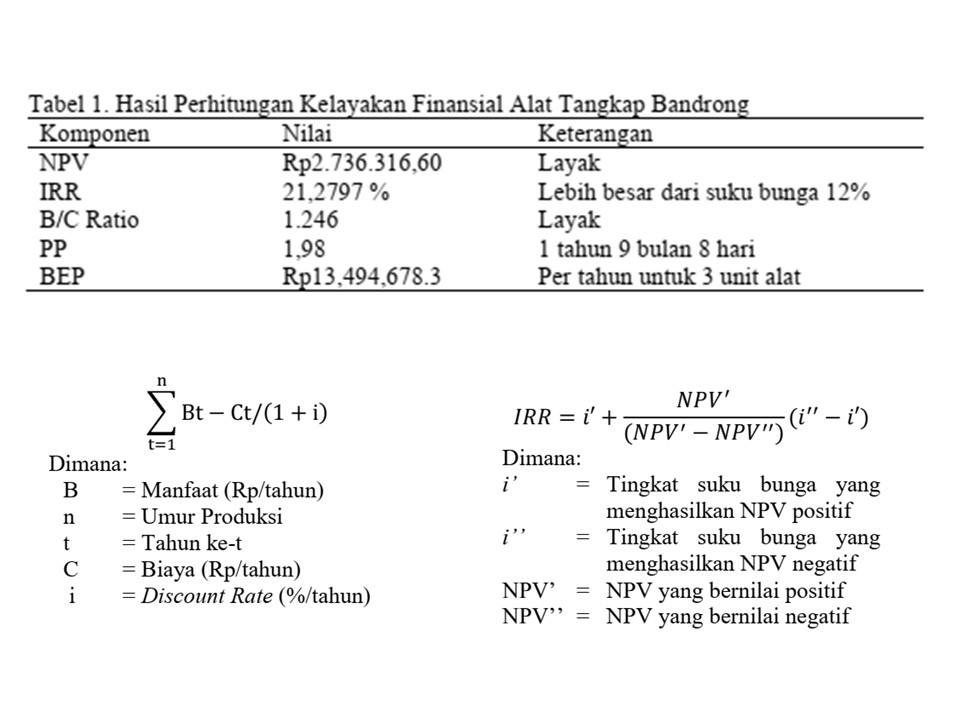 Abstract view : 33 times

PDF Views : 19 times
Keywords:
Bandrong Cakalang, Fishing Gear, Economic Aspects, The Shallow Waters, Fish Sustainable
Section
Research Articles
This work is licensed under a Creative Commons Attribution-ShareAlike 4.0 International License.